How to Propose to a neighbour:
Show your true feelings for that very special Farmer, and propose with a ring!
To "Propose" to your Favourite Farmer,
you can choose to buy one of these three very beautiful rings
amongst your available gifts on the "From the Heart" tab:

The Silver Ring
costs 1500 CCs

The Gold Ring
costs 50 BBs
The Diamond Ring
costs 300 BBs
Wedding rings can be gifted to one neighbour only
You click on the ring that you want to purchase,
and choose which neighbour you want to "propose" to, amongst the neighbours who are not greyed out (= already married).
The neighbour will receive this "Proposal" pop-up, and can choose to accept or decline the proposal.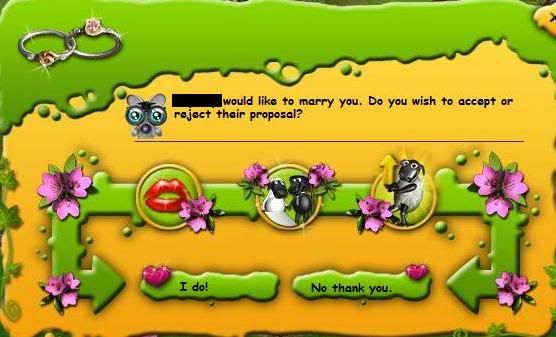 When your partner has accepted your proposal you'll see this pop-up: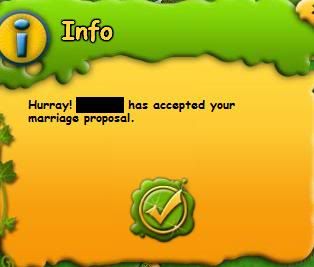 If they decline your offer, you'll see this pop-up:
Once two accounts are married to each other,
you'll both see the "partner's neighbour tab" shows up PINK
You'll see in your Flower Tab (2nd sub-tab with cap/coin)
A Wedding Arch offered by Farmerama: It will be the same "colour" as the wedding ring sent.
(for example: if you sent a Silver Wedding Ring, you'll receive the Silver Wedding Arch).
The Wedding Arches will display the name of the partners on the info bubble.
- Silver Wedding arches give 100 EP every 24 hours
- Gold Wedding arches give 150 EP every 18 hours
- Diamond Wedding arches give 200 EP every 12 hours
- - - - -
Send Kisses
Send your loved one lots of kisses - there's EPs in every kiss!
You can only send kisses to your partner!
You'll find the kisses in your Gifts to be offered, on the "From the Heart" tab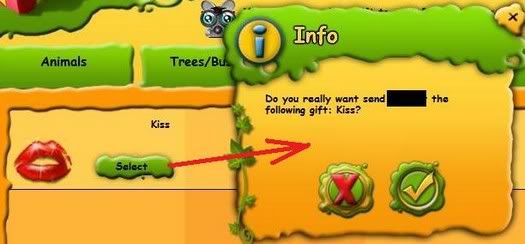 The EP awarded per kiss depends on the level of the ring.
- Silver Kisses will give 100 EP
- Gold Kisses will give 200 EP
- Diamond Kisses will give 300 EP
When you receive a kiss, you'll see this pop-up:
- - - - -
When your Partner levels up
When your Partner level's up, you'll receive an EXTRA Level-up EP bonus!
- - - - -
How to Divorce
If the couple wants a "divorce", the ring will be lost forever, however you can choose to marry someone else.
To divorce you click on the neighbour delete button and you'll be asked to validate or decline the divorce.
If your partner chooses to divorce, you'll see this pop-up:
When you divorce from your partner, you will have to wait until the system resets your gifts at midnight CET to be able to propose to someone else.