Farm Production pens (Workshops)
From the start of the game, you can start saving up drop items in the form of Tools. From level 8 and higher, level at which the Workshop is unlocked, you have the possibility to use these tools to build an upgrade which will allow you to produce new items, like Eggs, Milk, Wool, Honey and others.
Where can I get these production pens?
You can build the production pens in the City by clicking on the Workshop.
To build them, you will need tools.
Where can you find tools?
Tools can be bought at the Supply Store in the City.
You can win Tools on the FarmWheel.
You can also receive toolbox items from your neighbours and buddies
and finally, you can win tools whilst harvesting your crops/animals/trees.
All these tools will get sent straight into your Tool Inventory in the City WorkShop. You can also see them in your barn under Other.
Once you've built the Production Pen, you'll find it on your Animal Tab inventory
Production Pens are now Stand-Alone items.
They just need an empty space to be placed on.
(This does not apply to the coloured-production-pens: yellow, orange, red and pink, which still need a base to be placed on. See:
http://en.board.bigpoint.com/farmera...d.php?t=316848
)
How do I get the Production Pen to start working?
Each time
you wish to produce a Special Product, you must "feed" the Production Pen with:
Animal Food
AND 1, 2 or 3 Animals (that you must have in your barn)
- - - - -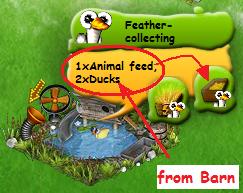 Once the animals have "given" their product (eggs, wool, milk, etc.), they go to an early retirement, and you'll need to replace them with new animals from your barn (as well as new feed too)!
- - - - -
Chicken Egg Farm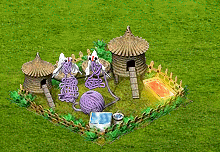 Note:
Chicken Egg farms can be won from level 2 on the FarmWheel,
or won on some Farmer's Society Quests from level 3
You can buy eggs in the Market from level 3+

- - - - -
Rabbit Shearing Shed
- - - - -
Goat Dairy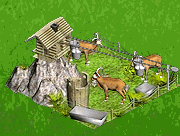 - - - - -
Bat-Guano
- - - - -
Paint Factory
- - - - -
Crow Hoard
- - - - -
Feather Collecting Station (duck)
- - - - -
Sheep Shearing Shed
- - - - -
Truffle Farm
- - - - -
Cow Dairy
- - - - -
Rodeo Ranch
- - - - -
Koi Pond
- - - - -
Apiary
- - - - -
Ostrich Egg Farm
- - - - -
Beaver Sawmill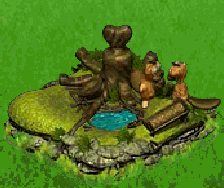 * see also
{FAQ} Bahamarama Production pens (Workshops)