Howdy Farmers!
Welcome to the Farmerama Forum. I've decided to make this sticky to point out some useful features to help you find your way around the forum.
First and foremost, please read the forum rules.
This will give you the general idea about what you are and are not allowed to post. If you don't follow the rules, then you will receive an infraction (punishment) from a mod or admin. If you receive a certain number of infractions, you will be banned from posting on the boards.
Getting Started Links:
Official Announcements
Forum Rules
Netiquette
Infraction Guide
Second, take a look as some of these game help links.
Forum F.A.Q Section
FAQ Index
(gives links to all the FAQs
Schlumpfi's Beginner Guide
Farmerama Chart
(what do you get and when)
Farmer's Society tasks
The Farmerama Bible
Market Guide
How to search the forum effectively
How to use the forum
Next, many topics have been covered a number of times. You can find a lot of answers by using the search function.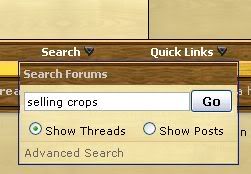 Sometimes the threads that come up don't exactly match your search words. However, take the time to read some of the threads and you can find the answer without having to start a new topic.
Additionally, you can help out your fellow farmers when you create a new topic by giving your thread the appropriate title. If you just write "Help" as a subject, then other players who have the same problem can't find the answer via search and players who want to help don't know what you need.
How to write to get help
Once you're ready to post:
Make sure you put your question in the right section!
This helps people find your question easier. This will also help you get an answer more quickly. Underneath each section is a brief description of the type of questions that belong there.
Closing Threads:
Mods/Admins try to close threads once a topic has been answered to the original poster's (OP's) satisfaction. By doing so, we avoid spam-clogged threads.
It's not done to hurt anyone's feelings, but rather to make the questions and answers about playing the game easier to find.
There is a section of the forum devoted to off-topic threads and exchanging tips, growing methods and user experiences:
Speaker's Corner
As long as the posts are not offensive and within the forum rules, those threads will stay open.
Happy Farming!
/cbroo