Hello,
Note to Moderators:
If you wish to move this to the F.A.Q section you are more than welcome, I feel that an F.A.Q should be made so that everyone becomes aware of this new design asap.
Thanks.
Drone Design:
HERCULES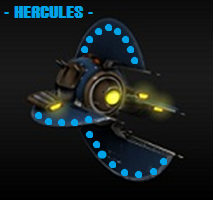 (Not actual Image; soon to come)
Currently Acquired only through the completion of the new KAPPA Galaxy Gate:
Quote:
You received the HERCULES drone design. You received 15,000 Uridium. You received 30000 UCB-100 laser ammo.You received 10 log-disks.You have received 5 booty keys.You received 10,395,000 EP.You received 357500 honor points.
-> [Kappa Gate Run through] <-

This Design offers the following Bonuses to the user:
-
15% Shield increase upon the drone that it is equip (does not require a full set)
-
20% Hp Booster upon the main ship (requires a full set of designs to be equip)
Notes:
-
If the user already has full Havoc's equip, by swapping a Havoc Design for a Hercules Design you will loose the 10% Damage Booster acquired through the completion of the ZETA Galaxy Gate.
If I have missed anything or anyone requires clarification please let me know!
Thanks,
Dr.Dee