Hi everyone,
It has come to my attention that there are many of you that complain about the lag that you "think" is server related. Most of the time it is not server related.
The reason why it is not mostly server related is because the servers can handle the traffic easily as they have a connection from either a Tier 1 or Tier 2 internet service provider.
Right, there are a few different kinds of lag and I am going to explain two of them. One of them is Graphical Lag and the other is Network Lag.
Now before you start complaining about anything, I
DID
experiment with it myself so don't say that anything I say will be useless as this may help you in the future. All screen shots were done from my laptop and I am located in the UK.
Graphical Lag
Graphical lag is basically when your FPS (Frames Per Second) goes down to like 10 FPS or maybe a bit higher or lower. This is because you either have the game quality settings too high or you have unused programs running in the background.
Sometimes your computer can run tasks that can be CPU heavy at times without you realizing it. You can free up your system resources by closing any unused programs or kill any unused processes via the task manager. For Linux users it will be in System Monitor.
Sometimes, flash can be resource heavy at times as you will get more and more graphics being loaded up onto your screen at once. Too much graphics will increase CPU load and RAM usage.
Freeing up more system resources and lowering the quality will help increase game performance and decrease in graphical lag.
Another way you can increase your FPS is to put your back page onto like your clan page or any page that has no flash based objects but clan page is more recommended as its just text. Having your back page on the shop page, home page or anything with flash objects will hurt your FPS.
Network Lag
Network lag can occur when either you have very little bandwidth available, many users on your connection at a time or you have a few programs like TeamSpeak 3 that are latency heavy.
To find out if your connection is fine, use the "ping" command in your command prompt. You will need to do "ping us1.darkorbit.bigpoint.com".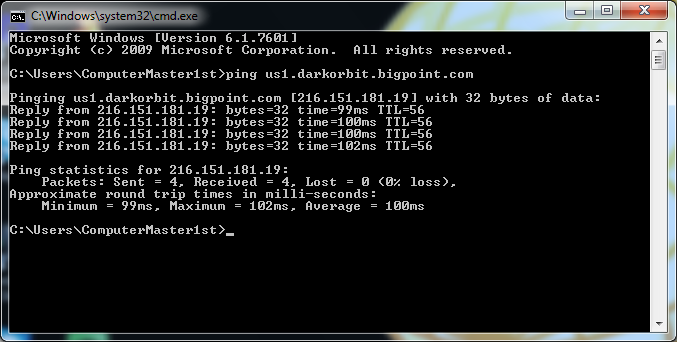 If your ping is like 150ms or lower then your connection should be ok. If it's between 150-300ms, it is still playable but with a bit of lag. Any more will result in lag.
Another command that you can use is "tracert". This can help you where the lag is being originated. In command prompt, do the following command "tracert us1.darkorbit.bigpoint.com".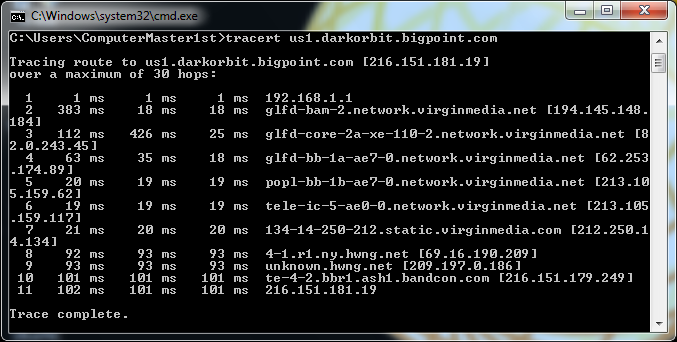 If your connection to your ISP is less that 20ms then you are fine. If it is between 20-50ms then your connection might have some interference somewhere or you are on a shared connection which could cause a bit of lag as there could be many users on the connection. Any more will then result in too much interference on your connection, too much traffic or your connection is very slow.
Then, you will need to see if the connection from your ISP to the servers' ISP is ok. If the ping gap from your ISP to the servers' ISP is small (maybe 20-50ms between them for example) then the connection to the servers' ISP is fine. If the gap is 50-100ms then the game will still be playable with minimal lag so it shouldn't be an issue. Anymore then that is where the lag is being originated. Since I have to connect to the servers overseas, the lag is originated between my ISP and the servers' ISP.
This next part will be very interesting for and it will stop the complaints about the "lag" you think the servers are producing. If the connection from the servers' ISP to the servers is 20-50ms, then there are no issues as the connection needs to very fast to handle the traffic and 99.9% of the time, it is normally around that area. If the connection from ISP to server is around 50-100ms then there might be a bit of lag on the servers' end. Anymore then you can file a complaint about the lag as the datacentre that contains the servers will need to sort out the connection on their end.
The diagram below is basically a chart on what is the best connection to play with no or minimal lag. The diagram is also based off the screenshot of my tracert command in the command prompt.
You <--- 0-30ms
Delay
---> Your ISP <--- 0-100ms
Delay
---> Servers' ISP <--- 0-30ms
Delay
---> Servers
This diagram is for people that are either close to the datacenter or overseas and is the recommended connection for stable gameplay. The ping function just shows the total delay from you to the server.
Tracert is the breakdown of the delay which is basically what the diagram above is. To improve your connection, you can either free up bandwidth by stopping any downloads, close down any applications that are using the connection like TeamSpeak and any other latency heavy programs or wait till other users on your network have stopped using the connection. If anyone on your network is browsing the web, using Facebook then that's fine. If they are on YouTube or any other website that involves streaming then you will need to wait for them to stop or live with it.
If you get a "Request Time Out", then you have a break in your connection meaning that the connection to the game is being rerouted through another connection. This can also increase in delay/ping and may start to see lag.
If you have a connection of maybe 30Mb or more, then some streaming can be tolerable but it can still hurt your latency as streaming is still downloading and most of the time, downloading takes up most of your bandwidth.
Tip: Remember, your connection to the game can go either via the fastest route, reliable route or the route with less or no traffic.
So, to recap after all that, to keep a stable, lag free or minimal lag connection, do the following:-
• Close any latency heavy programs (can cause the delay to increase if left open)
• Stop any downloads & streaming (Frees up more bandwidth to improve latency and decrease delay)
• Set graphics to low unless you have sufficient system resources that can cope (Low settings is mostly recommended)
• Close any unused programs (frees up system resources and gives flash more room to breathe increasing game performance)
• Go to clan page when not using the back page (increases game performance since clan page has no flash based objects)
• Update Flash Player
• Update Browser & JavaScript
• Clear Browser Cache (Allows new data to be downloaded increasing performance)
• Clear Flash Cache (Basically the same as clearing browser cache)
• Get a better connection (consider as last resort)
• Format and do a clean Operating System install (consider as last resort)
• Get a better computer (consider as last resort)
I have written this for your own needs to help you get a lag free game play. If this worked for you and helped improve your gameplay by any means then you're welcome to post any positive feedback. If you wish to add any more to this then post it as feedback so I can add it to the post and I'll give credit to you for it. Any negative feedback that have something similar to either "It doesn't work", "Its always the servers", etc. will be treated as either you haven't read the post fully, too lazy to do anything or just saying it for the sake of it because you like to complain.
Remember, everything I provided for you was based on an experiment I performed. You can't argue with the experiment. If you don't believe me then try it for yourself.
If any mods find this useful and it works for you then you are welcome to provide any feedback as well and sticky this thread.
If there are absolutely no issues at all, then you can file a complaint about the servers being laggy. If the servers are laggy, they could be experiencing very heavy loads which can cause then to timeout.
Thank you.